Pantry - Despensa
Monday / Lunes - Thursday/Jueves
11:00 to 12:00
Donations are accepted anytime during the week.
Donaciones se aceptan durante la semana.
Feed the hungry
There are many people in this world who go without food. When so much of our food goes to waste, consider how good stewardship practices of your own food habits can benefit others who do not have those same resources.
Having delicious food at Thanksgiving or Christmas dinner? Donate to a Thanksgiving or Christmas food drive so everyone can have something to eat.
Research, identify and contribute financially to organizations that serve the hungry.
The next time you make a recipe that can be easily frozen, make a double batch and donate one to your local food pantry or soup kitchen.
Try not to purchase more food than you are able to eat. If you notice that you end up throwing groceries away each week, purchasing less groceries would eliminate waste and allow you to donate the savings to those in need.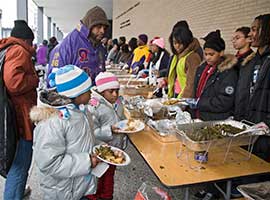 Alimenta al hambriento
Hay muchas personas en este mundo que se quedan sin alimentos. Cuando gran parte de nuestros alimentos se desperdicia, considere cómo las buenas prácticas de administración de sus propios hábitos alimenticios pueden beneficiar a los demás que no tienen los mismos recursos.
¿Van a tener una deliciosa comida en la cena de Acción de Gracias o Navidad? Done a una colecta de alimentos de Acción de Gracias o Navidad para que todos puedan tener algo que comer.
La investigación, identificar y contribuir financieramente a organizaciones que sirven a los hambrientos.
La próxima vez que haga una receta que puede ser congelado fácilmente, hacer una tanda doble y donar uno a su despensa de alimentos o a la cocina pública local.
Trate de no comprar más alimentos de los que son capaces de comer. Si usted nota que usted termina tirando a la basura comida cada semana, compre menos comestibles y asi elimina el desperdicio y le permite donar los ahorros a los necesitados.