Prison Ministry
At the Mini-Cassia Criminal Justice Center
Because all men, as children of God, possess a unique dignity, the Church with her social tecing is committed to defending and promoting this human dignity for all men in the social sphere. She is not trying to preempt the legitimate freedom of politics or of the economy. When human dignity is violated in politics or economic practices, however, the Church must intervene.
The Corporal Works of Mercy
The Corporal Works of Mercy are found in the teachings of Jesus and give us a model for how we should treat all others, as if they were Christ in disguise. They "are charitable actions by which we help our neighbors in their bodily needs" (USCCA). They respond to the basic needs of humanity as we journey together through this life.
Visit the prisoners
People in prison are still people, made in the image and likeness of God. No matter what someone has done, they deserve the opportunity to hear the Word of God and find the Truth of the message of Christ.
See if your parish, or a nearby parish, has a prison ministry and if so, get involved.
Volunteer to help out or donate to charities that give Christmas presents to children whose parents are in prison.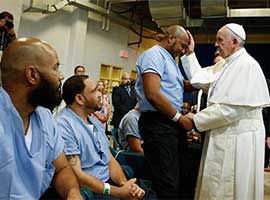 Dado que todas las personas, creadas a imagen de Dios, poseen una dignidad única, la Iglesia, con su Doctrina Social, aboga a favor de que esta dignidad de la persona se realice en el ámbito social también para todas las personas. No pretende tutelar la política o la economía. Pero cuando en la política y en la economía se ataca la dignidad de las personas, la Iglesia debe intervenir.
Visitar a los Presos
La gente en la cárcel siguen siendo personas, hechos a imagen y semejanza de Dios. No importa lo que alguien ha hecho, que se merecen la oportunidad de escuchar la Palabra de Dios y encontrar la verdad del mensaje de Cristo.
Vea si su parroquia, o una parroquia cercana, tiene un ministerio de prisión y si es así, participar.
Voluntarios para ayudar a cabo o donar a organizaciones benéficas que le dan los regalos de Navidad a los niños cuyos padres están en prisión.
Mini-cassia Jail Visits:
2nd and 4th Saturday of the Month
Contact the parish if you would like to volunteer.
Contacte a la parroquia para más información.